Yellow Labrador Retriever Breeder
Yellow labs are among the most common and most popular types of labs. As a pointing yellow lab puppy breeder, Lankas Labs take this iconic breed and not only make great family pets, but also skilled gundogs. Our puppies for sale receive pointing training starting as early as five weeks, so they learn quickly and develop good hunting skills early.
Many people may prefer a yellow lab simply because they like the color or they are looking for that classic "Old Yeller" appearance. Whatever color of dog you choose, your Labrador retriever will exhibit exceptional pointing abilities from a young age and they will be ready to work with you and find game in any environment. They will also be friendly and personable pups and become loved and cherished members of your family.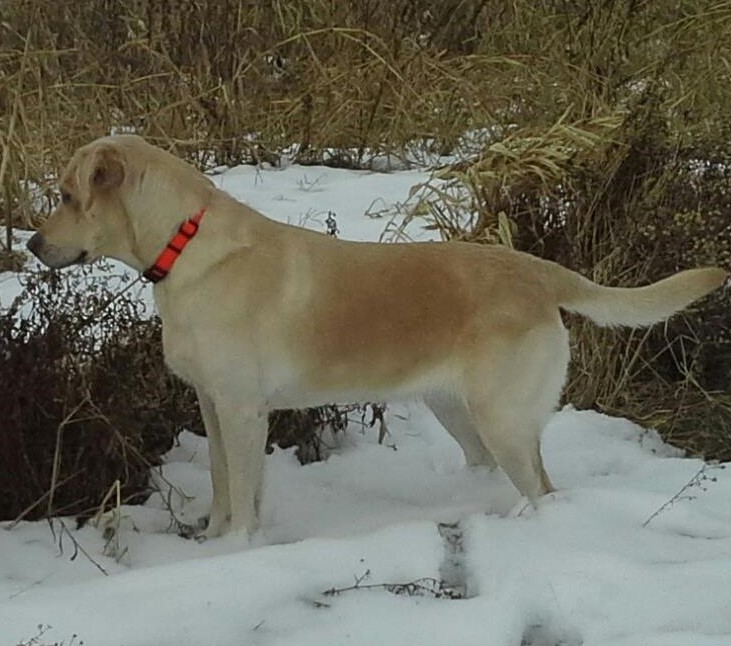 Experienced Yellow Lab Breeder Of Pointing Yellow Labs
We select breeding dogs with the best health traits, personalities, athleticism and trainable attitudes so our puppies start out with those same exceptional traits. Our yellow labs have become champion gundogs and devoted pets for families all across Kansas and even around the country, and you can find your new hunting partner and family friend with us as well.
Being an experienced, successful pointing yellow lab puppy breeder not only requires care and attention, but it also requires plenty of patience. Teaching puppies how to point can be hard work, but it is worth it to see these young dogs hone their instincts. When it comes to hunting skills, all the puppies for sale at Lankas Labs are successful across the board and highly praised for their skill in the field.
To add a skilled, loving dog to your family and your hunting group, start with an experienced pointing yellow lab puppy breeder. See our puppies for sale online now or call Lankas Labs today at 785-626-9313 for information on upcoming litters.
Gallery of Pointing Yellow Labs For Hunting