After making the switch with our dogs to Life's Abundance All Life Stage Dog Food, the best quality of dog food I have ever seen or utilized in my 25 yrs of Experience. Prior to making the switch, the dog food I was utilizing was cheaper per bag, but did not have the quality I expect for our dogs. As a result, I was going through 28 50lb bags a month. Because of higher nutritional quality, I now go through 15 44lb bags a monthly, resulting in healthier dogs and less poop to clean. Consequently, resulting in less flies.
It has Diverse Proteins, Animal Fat, Vitamins A, C & E, Omega-3 Fatty Acids, Prebiotics, Probiotics, Vegetables and NO Corn/Wheat/Glutens
Crude Protein (Min) 26.0% Crude Fiber (Max) 3.5% Moisture (Max) 10.0% Omega-3 Fatty Acids (min) .75% Omega-6 Fatty Acids (min) 3.0%
The cost to feed Daily is cheaper than to feed Blue Buffalo, Taste of the Wild, Natural Balance, Nutro Max, Purina Pro Plan, Royal Canine just to name a few.
With this dog food, there is more to it than just the great Nutrients Value. It can extend your dogs life, cut down on Vet bills, help prevent disease or defects in the offspring and potentially give your dog the chance to have more pups/litter! Life's Abundance has never had a recall on any of their products!!!
To find out more information or to place your order go to http://www.lifesabundance.com/lankaslabs
Life's Abundance Testimonials:
Here are some testimonials we've heard!
First pic on the left, right after whelping puppies, vet said it could at least 6 months for her coat to grow back.. second pic a month later after switching to life's abundance life stages.
I thought I would Share this awesome testimonial from one of my brother's client's at Shelburne Falls Veterinary Hospital.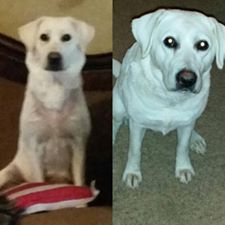 Another Life's Abundance Testimonial
Bernese Mt. Dogs are reported to have a life span of 8 to 10 years. When ours was 9 ½ years old, she began to lose interest in food and lost nearly 20 pounds. I was preparing myself for what seemed to be the spiral into old age and loss of Roxy when she began to have several 'episodes' which sent us to see her veterinarian.

Our Vet's first question was, 'What did she get into?' My answer was, 'Nothing'. Roxy won't eat her regular treats without smelling them carefully first, and has never even rolled in stinky things. The diagnosis was multiple mild seizures. Based on that, I accepted the recommended prescription. While waiting for the pills and the bill, I noticed the samples of Life's Abundance food sitting on the front counter and asked to take one, along with the brochure.

When we got home she kept looking at the sample packet of Life's Abundance that I had tossed on the kitchen table. When I offered it to her, she gobbled it as though she was starving, which by then might have been true. I thought back to her Vet's first question and remembered we had picked up a different mix, but same brand of Roxy's standard major-brand dog food – and that it was about 4 or 6 weeks before her weight-loss and seizures.

The prescription had immediately caused Roxy to drink excessive amounts of water and she was demanding to be let out every 45 minutes day and night. I was ready to try anything for a good night's sleep: even ordering what I thought was probably over-priced ,hyped-up-marketing, designer dog food.

I ordered Life's Abundance which arrived on my doorstep the afternoon of the following day.

After two days on Life's Abundance she was eating well and had no signs of seizures. With our Vet's permission we stopped giving her the drug which caused the side effect of over-drinking.

Roxy will be 10 ½ years old in 3 weeks. I am convinced that Life's Abundance is the primary reason our Bernese Mountain Dog has regained her appetite, has had no seizures, is energetic and looks better than ever.

Thank you for excellent customer service and for making a product that probably saved our dog's life.

Sandy Cardinal – Buckland, Massachusetts
More Testimonials:
My wife had a beagle/weiner dog mix (had him before we got married) he no longer could jump up in bed with her (against my wishes to begin with) but after switching him over, in just about 2 wks he was jumping up into bed and running around like a pup again, he is now 15 going on 16 and still very active. I have a male who is 12 yrs old and he still hunts all day for me and just last season he retrieved 37 out of 48 birds shot in 1 draw and working with 6 other dogs.
One guy had a dog who had seizures and nothing helped but tried to limit it by medication, after switching over to LA Holistic dog food the dog has been seizure free for over 5 yrs…
And here is another:
I looked for a replacement food with probiotics (since I had been putting probiotics in with their food), and the best I came up with was Natural Balance Synergy, which I fed my dogs for almost two years. But in 2014, my 9-year-old Jack Russell Terrier ShaDaisy was becoming lethargic and acting old. Our vet diagnosed early onset arthritis, and we started giving her Rimadyl. But still…she seemed way too young to earn the nickname "Granny" that my children gave her! My friend Lovell Larkin told me about the food she uses, and recommended that I try it. I placed my first order of Life's Abundance All Stages in late 2014. Soon, Daisy was energetic, happy, and spry. I also added the fish oil daily in with her food. I couldn't have been more pleased with the results of upgrading her diet!