White Colorbred Labrador Retrievers Breeder
If you are looking for a skilled pointing dog and a loving, loyal pet, don't leave breeding and training to chance. Lankas Labs is an experienced pointing white lab puppy breeder and we focus on training and caring for each of our dogs individually.
We breed all types of labs, including handsome white labs. Whatever type of lab you are looking for, and whether you are looking for an exceptional pointer, a great family pet or both, you'll find your new addition in our puppies for sale. Our puppies for sale start their pointing training as soon as five weeks old and are socialized other dogs and members of our family practically from birth, so every dog develops their initial pointing and social skills early on.
Work with a skilled pointing white lab puppy breeder to get the right gundog and the perfect family pet for you. Take a look at the puppies for sale from Lankas Labs online now or call us at 785-626-9313 to find your pointing white lab today.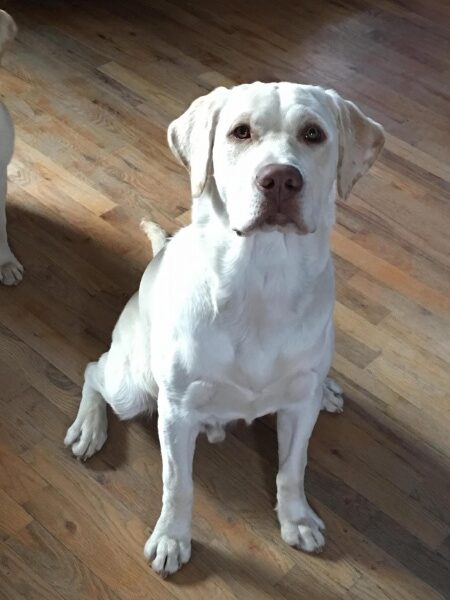 About White Labrador Retriever Dogs & Puppies
White labs are a bit different than ivory labs and not at all like silver labs. Just as the name implies, white labs are almost completely snow white. While ivory labs are more of a very light yellow, you'll find almost no yellow on white labs. As with ivory pups, you may see some slightly darker markers around the ears and face, though this is much less pronounced than in the ivory labs.
As pointing white lab puppy breeders, we know that white labs are actually the lightest variant of a yellow lab. We also know that color doesn't dominate a dog's personality, and our white labs will succeed as pointing and retrieving dogs just as well as any other color. They also make wonderful family pets.
While some hunters prefer certain colors because it will allow the dog to blend into an environment better, and some families prefer certain colors because the dog may appear friendly or cuter, the color does not make the dog. Whatever color you choose, your puppy can be trained to point and succeed on the hunt. All our dogs are also raised to be well-socialized, so they can grow up to be both accomplished pointers and lifelong family companions.
Pointing White Labs For Hunting Gallery