Pointing Labradors For Sale
Making the news: Lankas Labs make the News!!! Eye Witness KWCH 12 are doing a piece on whats makes your community Unique in the state of Kansas.
Lankas Labs did an interview July of 2012 with 20/20 on the USDA new rules and regulations on the behalf of the American Kennel Club!
JAX BLACK MALE
D.O.B. Aug. 2013 75+lbs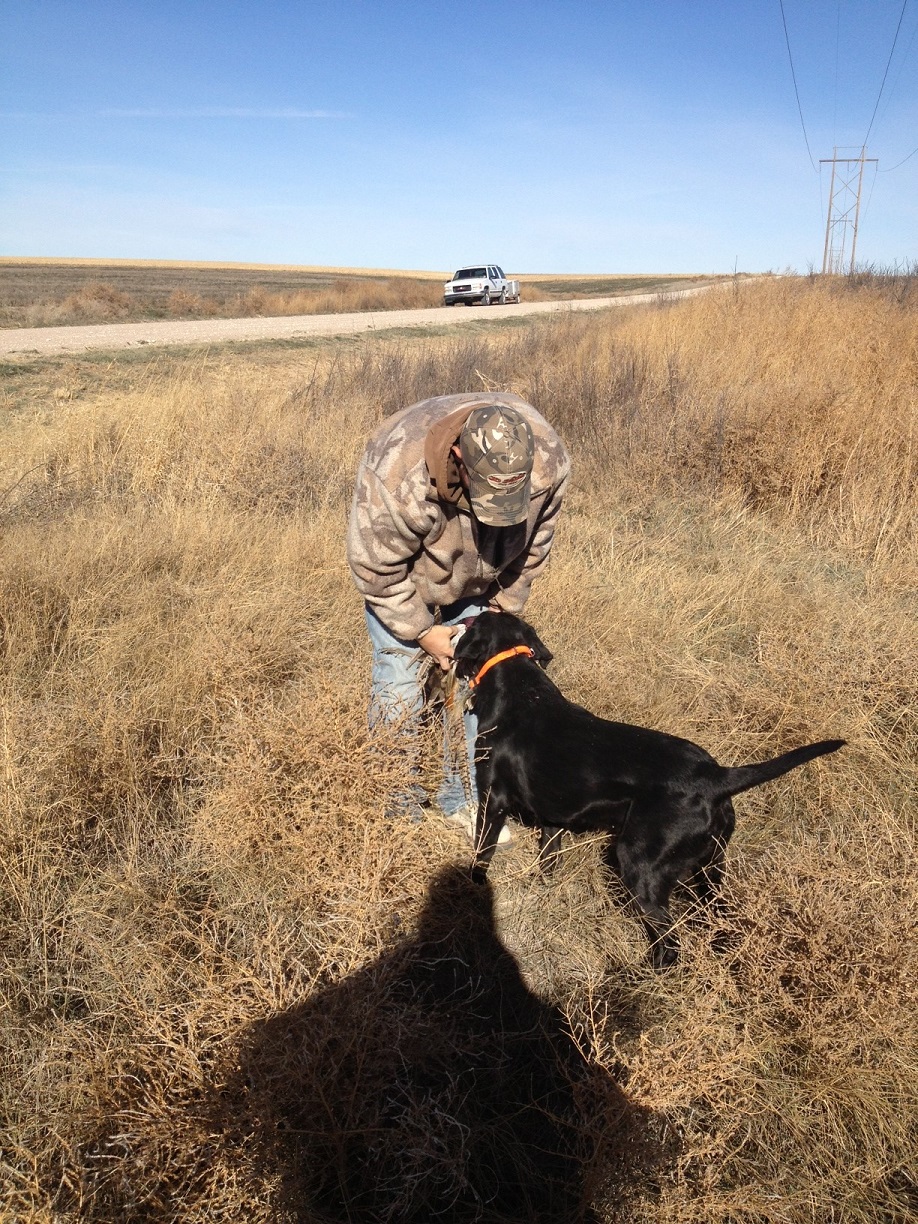 Dam was Yellow, Sire was Chocolate
Collar Condition, Sit, Stay, Heel, Retrieves to hand…has been Shot over numerous times (hunted with a group as large as 8 guys), has pointed a few wild birds (if they sat long enough)
Good with kids
There are several APLA Certified Pointing Retrievers,  1 APLA APR, 1 APLA IPR, 9 Grand Master Pointing Retrievers: CP Lindell's Prairie Rattler,  APLA Grand Master Zig Zag's Jipsey's Blackmagick SH,  GMPR HPK Shooter's Baxter Bing JH, GMPR Cashzinger's Cattail Corky, APR Tuckers Minne Sota JH, APLA Grand Master Pointing Retriever Rik's Risky Raider who also is a Senior Hunter,  Master Hunter Retriever and was the 2001 Open Pheasant Champion. CP Victor XII, CP Miss Roxie Lynn of Ky, CP Minn Horse and Hunt Club Thor, There is also Senior Hunter the 1998 US Open Pheasant Champion (Amateur Class) Holzinger Risky Business, 1995 US Open Champion (Open Class) 1996 US Open Pheasant Champion (Top Gun Class) Holzinger's Lady Dutches, Senior Hunter Kurt's Blazing Behavior, Master Hunter Wyvemaxe Audley, APLA Intermediate Pointing Retriever Beckmann's High Point Ruger II, APLA Certified Pointing Retriever Beckmann's High Point Magnum, APLA Certified Pointing Retriever Autumn Oak's Over N Under (Who sire was FC, AFC, CNFC, CNAFC, HALL OF FAME The Marathon Man), APLA Certified Pointing Retriever Mt Pleasant Turk, APLA Grand Master Pointing Retriever IPLA Certified Pointing Retriever Beckmann's Ace of Spades, APLA Certified Pointing Retriever Butler's Kellogg Magnum, K  CP  SHOOTER'S CATTAIL SUMMER JH, MHR Wyvernaxe Audley MH, AFC Master Hunter Trieven Twist and Shout who has sired 38 Fld Champions in 6 generations, including 10 National Champions,  HALL OF FAME Aces High III Ridgelines Full Tilt Cajun, GMPR Cajun of Black Forest SH, GMPR Goose Creek's Full Tilt SH, GMPR Sir Hershey of Surrey, CP Trieven Ann Teak, AFC Chugagh Hills Jazzs Rascal, GMPR QAA  and HRCH Blackjack's Bonker John Kate MHR
Blacks, chocolates, ivories, silvers  due in Dec.
---
New Location Address
Lankas Labs
15259 RD 19
Atwood, Ks   67730
Started or Trained dogs We currently do not have any started dogs for sale, however we are taking reservation on pups to train just for you. UPLAND, WATERFOWL, FAMILY/COMPANION or combo of any and all 3. We also offer preseason training for you dog. $350 per 4wks *cost of birds not included*
Popular with hunters or people seeking a great family-focused, companion dog; Lankas Labs' dogs are always in demand. Whether it is because of the fine breeding stock each pup is sired from, the extensive training young pups receive or the high quality diet all of Labs are fed, we welcome the reputation as being one of the premier Ivory Pointing Labrador Breeders. Looking for a place to find Fox Red Labradors For Sale? We are also one of the most knowledgeable and dedicated Fox Red Pointing Labradors Breeders you will ever meet. In addition to Fox Red Pointing Labs and Ivory Pointing Labs, some of the other colors of Pointing Labs you will find at Lankas Labs include:
Black
Charcoal
Silver
White
Training Available
Specializing in breeding as well as training, Lankas Labs is pleased to offer pre-season training. Whether you have a pup or an older dog, one of our Ivory Labradors, Fox Red Labradors or any other breed of dog; all are welcomed. For $350, plus the cost of birds, your dog will receive four weeks of intensive training.
Lankas Labs pups can be trained just for you! We offer training in Upland, Waterfowl, Family/Companion animal or any combination of the three. For the most well-rounded Lab, we offer training in all three areas, allowing you to receive a thoroughly-trained loyal hunting partner as well as a dedicated family pet.
Understanding Your Needs
All Black, Chocolate, Fox Red or Ivory Labradors For Sale have their own unique personalities. At Lankas Labs, we will work with you to carefully identify your needs to help select the best Pointing Lab possible. While most people select their animals based on color and gender, we would also like you to consider other factors that will influence your selection decision. Are you seeking a dog that leans more towards the aggressive side, docile side or is a balanced combination of the two? Would you like your animal to be more social or independent? Finally, how would you like your Lab to function within your family? Will it be primarily used for Upland or Waterfowl Hunting, or will your Lab also be closely interacting with other family members seeking companionship?
By asking yourself these and other questions, you will be able to determine which qualities in a Pointing Lab are the most important factors affecting your purchase. When you are confident with your needs and expectations, Lankas Labs will be happy to help you select the most appropriate dog or further guide you in your decision making process.