Yellow & Black Pointing Labrador Puppies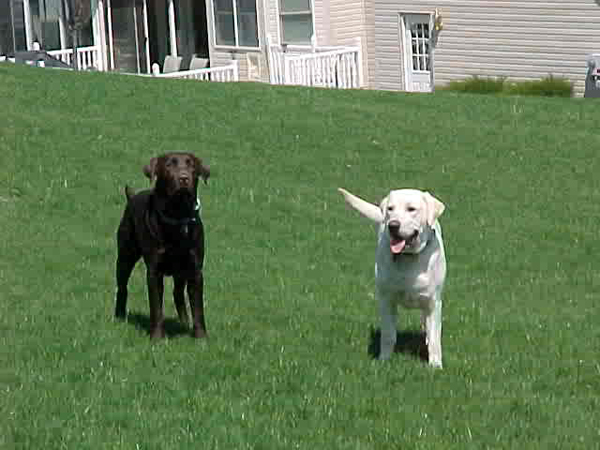 Alabama 7 Alaska 1 Arizona 11 Arkansas 17 California 41 Colorado 256 Connecticut 8 Delaware 0 District of Columbia 1 Florida 6 Georgia 9 Hawaii 0 Idaho 11 Illinois 12 Indiana 11 Iowa 29 Kansas 422 Kentucky 3 Louisiana  2 Maine 2 Maryland  3 Massachusetts 1 Michigan 12 Minnesota 16 Mississippi  3 Missouri  41 Montana  12 Nebraska 128 Nevada  7 New Hampshire 0 New Jersey 7 New Mexico  12 New York 15 North Carolina  3 North Dakota 18 Ohio 10 Oklahoma 46 Oregon 5 Pennsylvania 31 Rhode Island 1 South Carolina 4 South Dakota 11 Tennessee 7 Texas 79 Utah 15 Vermont 0 Virginia 7 Washington 11 West Virginia 3 Wisconsin  22 Wyoming 47 and 8 in Canada and 2 in Mexico
Testimonials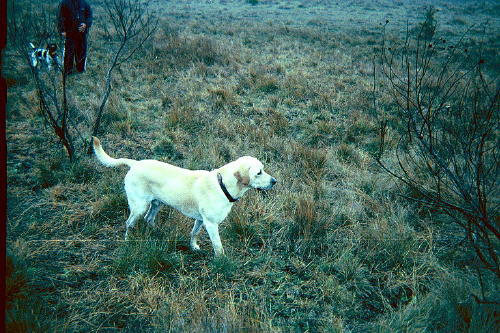 GMPR  Lankas Labs Brandys Maximillion JH
Sire:Holloway's Montaro "Monte" Dam:Lankas Labs Brandyother APLA certified dog out of our Kennels
*Newest*
* CPR Scanlon's Murphy:  Sire Lankas Labs Hunting Machine Dam:  Lankas Labs Sage*
*CPR Jacs Rebel:  Sire Lankas Labs Rebel Warrior Dam:  SPL Maggie May*
CPR Lankas Labs Air Claire Sire: Lankas Labs Rebel Dam: Lankas Labs Black Lady
CPR Browns Mojo Cutter Sire: Holloway's Montaro "Monte" Dam: Lankas Labs Brandy
APR Zig Zags Blue Banana Lake JH Sire: Eichhorn's Duke Dam: Slick Slammin Slider
CPR Witts Ivory Wonder Sire: Eichhorn's Duke Dam: Slick Slammin Slider
APR Ruger's Hershey Kiss Sire: Eichhorn's Duke Dam: CC Cotton Queen
CPR Queen Iz A Belle Sire: Eichhorn's TJ Hershey Kiss Dam:CC Cotton Queen
CPR Little Anne XVI Sire: Sir Duke Hershey II Dam: Lady's Twist and Shout
CPR Lady's Twist and Shout Sire: FC Trieven Twist and Shoult MH Dam: Lisa's Lady Bird
CPR Sandyann's Sunshine Girl Sire: Lankas Labs Buck Dam: Lankas Labs Lady
CPR Holloway's Montaro "Monte" Sire: GMPR High Sierra Kodiak MH Dame: Jade's Foxy Rocksey
CPR: Holloway's Precious Gem "Juels" Sire: Tony's Smoke On The Water Dam: Mueller's Owl Creek Molly
Newest Testimonials
Here is a picture of your dog I got off you. Not many birds where we live so we have been going to a game preserve in Missouri. Bo is a retrieveing fool of the 30 birds we got that day he brought back 25 of them. Pointed about 20 of them and put that old shorthair to shame. Thought you might like to hear an update on him.
Thanks
Mark Simms
simmsml@iowatelecom.net
---
Dear Mike,
I got a pup from your "Simba and Anne" liter back in May of 2009. I was wanting to let you know that "Bear" is one of the smartest dogs that I have ever seen. He is just now a little over 10 months old and weighs 74 lbs. I have never seen a dog as smart as Bear. I am not an expert trainer but Bear makes it easy because he picks up on things so fast. I trained him on the whistle at about 6 months of age. I took him on his first goose hunt about a month ago and he did amazing. Since than I have only been able to take him about 2 to 3 times a week because I am in college and have a part time job. He has brought back every bird I have sent him on, blind retrieves and all.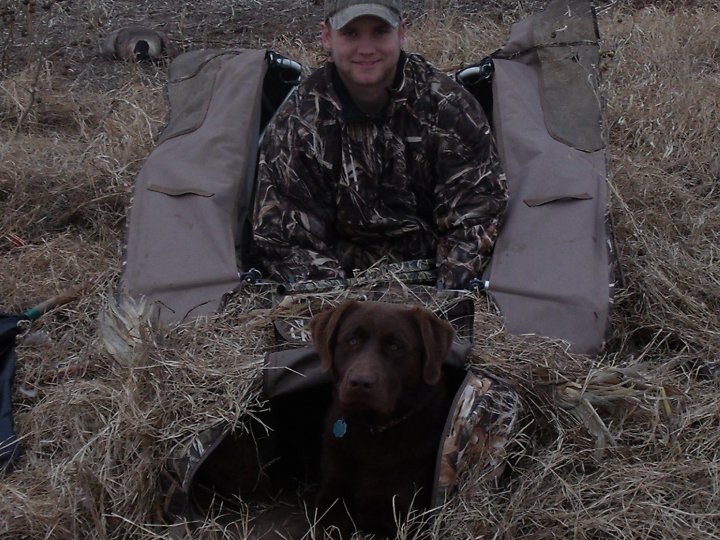 In the photo I sent you we had a pretty good hunt and killed 17 geese. My buddy had his dog and I had Bear, and Bear retrieved 13 out of the 17 geese. I was just wanting to let you know that I am glad I got a dog from you and am pleased on how good a dog Bear his. Hope to keep in touch.
Thanks, Paul Smith pcsmith@okstate.edu
---
Hi Mike,
I hope you had a terrific hunting season. I've got a question for you about Claire, who is out of Rebel and Lady. She's 8 months old and coming along great. She goes nuts over retrieving and is showing a very stylish tripod point. I'm now at the point where I want to extend her point. I picked up a book by Julie Knutson on training pointing labs, mostly because it was the only book I could find on the subject. She advocates whoa breaking dogs with a verbal whoa and not using check cords in the field. I've also taken Claire out for a couple morning training sessions with a local pointer trainer named Steve Chang, who uses the "silent method" of whoa breaking, using a check cord to enforce the point rather than giving a verbal "whoa." The Knutson book strongly discourages using check cords in the field. Some of the pointing lab forums have some pretty good debates on which method works best. I would normally follow the Knutson book method over the advice of a guy who mostly trains english pointers and brittanies, but then I watched Steve turn Claire's sometimes good, sometimes inconsistent pointing into a very stylish, very long tripod point. I'm talking 2 minutes of being locked on point like a Greek statue – pretty impressive. As the person most familiar with Claire's bloodlines, do you have any opinion as to which method works best?
Robin robin.lambourn@gmail.com
---
My name is Chris Harris and I purchased a dog from you from your litter 2 years ago (March 15th 2008 11 females in litter). I live in Utah and have been very impressed with the quality of my dog. I have not had her "fixed" yet but was planning on doing so quickly, but I would like to breed her once before I do. I wanted to make sure I was okay to do so. I cannot remember what the agreement was with your kennel on breeding dogs and would of course would want to follow your guidelines and standards before I do so. If I'm allowed to breed her I would love to keep the pointing lines and high quality blood continued in her litter, since I live in Salt Lake and would prefer to keep her close do you have any suggestions? Thanks for your time and thanks for such an awesome dog! we love her to death and has been great to hunt with
Sincerely,
Chris Harris
charris9cade@yahoo.com
---
Mike, Rich Wilkens here. Just wanted to update you on the pup that we got back in June out of Maggie (Casey's sister) and Rebel. We originally were going to name her Millie but then settled on Miller. All I can say is that she is fantastic. She is now 50 lbs of go-go at 7-1/2 months when she is in the field. The first time I had her over live pheasant was on a preserve at 6-1/2 months. We put out 12 birds. She turned and locked up on 5 or 6 and broke in on 3 or 4, and these birds we sitting tight. It was a great first time out for her. She has a great nose and the best work ethic….she will not quit and will not range too far. As a house dog she's great. She has not eaten a single thing that does not belong to her and was housebroken by 12 weeks or so. My wife is in love with her and is so happy that I talked her into this dog instead of the golden retriever that she thought she wanted. I'll get some pictures to you when I get a chance. Once again…thanks for a great dog. Rich
rwilkens@macwellness.com
---
mike: fred is fantastic (10wks old) house broke and doing well with his training, he has been working with live quail and that seems to b the trick. also he is 18# again thank you for such a great pup
Paul Bramschreiber firstchoiceroof@yahoo.com
---
I thought I would give you an update on Simba. She is 11 weeks old and she is doing great. What an awesome addition to the family and best of the wife likes her. She is retrieving a bumper to hand and she will do it several times in a 10 minute training session. She already knows the command to sit and currently working on laying down and best of she was potty trained by 10 weeks. When she needs to go she will go to the door and bark letting us know she wants out. I included a picture of her pointing a wing at 10 weeks of age. I will continue to update you on her progress
Ryan HiltyR@hutchcc.edu
---
Hey Mike.
Wanted to let you know that everything is going great. The puppy is adjusting very well and I'm convinced he is already starting to potty-train! He hasn't had a single accident in the house or his crate. He is the perfect mix between energetic and lazy. He'll play for awhile and then go lay down. I always dread the puppy stage but he hasn't been any problem at all.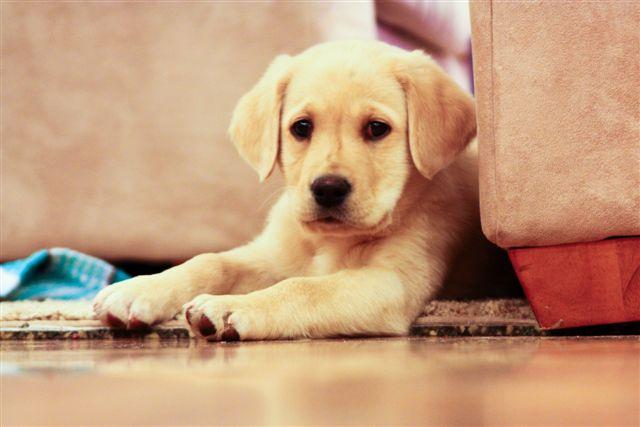 Thanks for a great transaction and I'll keep you posted now and then with pictures.
-Chelse
---
Hi Mike,
We hope all is well with you and your family. I just wanted to take a minute and let you know about our silver lab Thor. He was from the June 23 litter. He and my husband got their first bird together today…a quail. He has done a fantastic job all season finding birds and   today they got a quail. Thor did everything he was supposed to do and has an amazing natural instinct and drive to be in the fields looking for birds. Not only is he turning out to be an amazing hunting dog, he is a wonderful family pet. He is so great with our two boys that are ages 5 and 3. He has been nothing but gentle and loving with them and watches over them no matter what they are doing. Attached are pictures taken today after the big hunt!
Sincerely,
Erin Thornburg and The Thornburg Family
---
I purchased one of your dogs over 1 year ago. I recently received an email from a guy loking at your dogs. He saw my testimonial and asked me what I thought. I havent kept in touch but Sammi, our black lab has been a real joy. She loves to hunt! She loves the family and kids too. She is not a pointer as I did not work with her but that is my fault. I could not be more happy with a dog. Everyone who sees her loves her.
I gave a great recommendation and just wanted to again say thanks!
Brett Argeris, Wyoming bargeris@yahoo.com
---
Just a note to let you see how the girls are doing. They are the smartest dogs I've ever owned, and I couldn't be happier with them. Thanks again, Bruce Douglas.
brudoug@sbcglobal.net
---
Thanks so much. Eli brings us joy everyday–and acclaim to your breeding program. He gets the woman with his looks, and the men with his intelligent manner. A couple of local hunters have told me they've never experienced a lab that can just sit down and listen to the "adults" talk. I'm going to learn as much as possible about how to train Eli's kids in retrieving, games like agility for bonding, attraction to birds, etc., but it is the genetics, my desire that have quiet time in the house or when I'm "down" that wins people over. He is just a gorgeous guy.
That said, he's really silly in water. He throws his head in the pool and drinks underwater which must be impossible. The dogs play tag. Home is the pool.
There is so much need here that I'm thinking about paying for a breeding with "otter" or pay for one of his pups to come down Eli's line and continue good hunting genetics.
---
How are your dogs selling? Bill Crabtree says the sales cycle is much longer. The guy we got our female out of appears to have no sales from his September litter. I suspect I will follow whatever is happening to you because Eli is out of your dogs. If you find yourself mailing more dogs than usual in the future to TN, VA, No. Cal, So. Cal, W. Va it's probably because I send people over to your site to learn about Eli. So a Lankas Lab has meaning in the SW Virginia which should make you very proud of what your're doing. Your dogs are like currency. I've bought two poodles which are a minimum of $1,500 for "trade" from Eli's first litter. In our economy, that's something. The dog is stronger than the dollar.
antonia@zippnet.net
---
We think of you often watching our Bailey thrive here in Indiana. She is a great pup. She is full of spunk and is the most affectionate dog we've ever had by far. Perhaps that is the female in her, we've only had males. She is doing well on commands and so far has been less of a chewer than past dogs usually only going for her toys (other than a few dog beds, but that comes with having a pup). She gets walked 2-3 times a day here along the creek and gradually grew comfortable with the water. Now, she charges in and regular joins the kids in our pool. She and Tucker (6) are the best of playmates. We are having her spayed in a week before she reaches 6 months. She spends some nights sleeping with our boys, but mostly sleeps with Tucker in a mud room. They both use the doggie door as needed. She is doing great and has been healthy other than a urinary tract infection a couple of months ago. Here are a couple of pics of her.
Brown, Carol A. (cabrown3@bsu.edu
---
Dear Mike,
Our Billie turned one year old last week and I wanted to let you know that she is a happy, healthy, and well adjusted dog. She is my gardening companion every day and loves to drink from the hose at every opportunity. Billie is an absolute delight! She started pointing last fall and lives to play fetch in the back yard. She is so well built and beautiful. I was looking at your web-site and noticed how much she resembles Monty, her sire. I know that she is Brad's bird dog, but I have become so attached to her. You really do a wonderful job of breeding dogs and matching them to people. She is quite the guard dog as well. Nothing gets in her backyard. She had her first encounter with lightening bugs this past week and that was really funny to watch. She is a very inquisitive dog. In short….I just adore this dog! Thanks for your hard work and dedication to dogs.
Sincerely,
Renetta Dawson
Hays, KS hornlips2001@yahoo.com
---
Mike,
We made it home without any trouble. Sammi seemed to adjust well. She is a great dog. She has a terrific disposition. She is a beautiful pup and we couldn't be happier. I have gotten many compliments on her.
I took her to a little pond where I plan to work with her. She lasted 2 minutes before she was swimming around and playing. We go back about every other day and she loves it.
She minds well and is awesome on the leash. My wife likes her a bunch and the training was well worth the money.
Thanks again Mike and I will give you updates.
And if you want to come chase some birds in Wyoming, you are welcome here. I will even supply the bird dog this time!
Brett bargeris@yahoo.com
---
Mike,
Kevin thought you might like to see this. She had been doing this for a while. She will either do a three legged or a four legged point. She'll point for him one or two times then she starts trying to get the wing. She had a couple times she wouldn't point and would just try to get the wing. She is doing good and sometimes probably gets bored with it. He tries not to work with her too long.
She is doing much better now. We had her hernia taken care of and she goes to get her stiches taken out next week.
Tiffany
ktyarnell@gmail.com
---
Hi Mike,
Just wanted to shoot you a quick e-mail about RJ (Rocky Junior). He is doing great. It took him a little bit to feel comfortable, but now he is loving it. I take him almost everywhere I go. He has been to football games, cross country meets, work, school and the park. He is socializing very well. He loves people and the kids. I can't believe how calm and good he is, especially good with Maddie who is 4 and loves to love him. He is a lover and listens very well. He is in the house and kennel broke and working on house breaking. We are playing fetch with a sock and having him bring it to us. He is great with the kids. I can't believe his great personality and attachment to us.
Just wanted to thank you and let you know he is a great dog…so far. I told the kids to just wait until he is a few months old and he will be very onery. We are working on coming to us and sitting. Such a cutie!!
Thanks again,
Dawn sommers@peruvianconnection.com
---
Lankas Labs have been featured in the Dog USA Magazine, the Puppy USA Magazine, Bird Dog & Retriever News, Feature articles on outdoor-z.com and was featured on The Great American Outdoor Trails Radio show in Nov. of 07′ ****
---
Date: Fri, 24 Aug 2007 09:59:34 -0500 From: dana@pecommercial.com To: lankaslabs@hotmail.com Just wanted to drop you a line and thank you for selling me Gunner. He is doing great and is a very lovable dog. I wanted to tell you about something that happened this past weekend. My wife and I were in the front yard hanging out with my german shorthair and Gunner when I noticed my shorthair was locked up on a dove in the yard. Gunner which is only 9 weeks old, ran up behind Star and honored her point, unbelievable. Thanks again Dana Trojnar E-mail: Dana@pecommercial.com
---
Hi Mike, I've attached some photos of Dakota an offspring of Lankas Labs Jake and Slick Slammin Slider. We met you near the Denver airport in April when you delivered him to us at 8 weeks of age. Dakota is 8 1/2 months old now and weighs 72 pounds; we really enjoy having him in the family. He is very intelligent and indepedent, both traits that we appreciate. He is a good companion on camping, fishing and hiking trips and as you can imagine really enjoys the outdoors. He's not quite sure what to make of a trout yet and often times fishes the spot in the river before I can make a cast but he's learning to be patience and showing some signs of willingness to stay out of the water until I've made a cast or two or at least wades downstream first. Typical of a lab he loves the water and we're glad he's with us when we fish because for us it's not about the fish anyway. He certainly gives us plenty to laugh and smile about as he splashes around! Anyway, I wanted to send a few photos of him as he looks just like Jake. Dakota is everything that we could have hoped for, we could not be happier. Thanks for being a responsible breeder who turns out terrific pups! Dave, Julie, Chris and Tracy Wenman Denver, Colorado
---
I bought Maggie from you I asked you that I wanted a dog that likes water… Maggie is in my pool every day…….heheh I hesitate to email as to not bother you.. but you need to know…….. everyone at my vet's office just loves Maggie.. my vet says he has never seen such a beautiful lab and any dog with such a perfect disposition and character…. my vet said you can't train this in a dog… it has to be bred… Next Lab I buy will be from you…. thanks for the wonderful dog………. joe
---
Mr. Lankas: It has been almost a full year since The Blues landed here in Boston. In case you are interested, here is a report on your pup. The Blues is very healthy, active, intelligent, athletic, sweet of disposition and down right handsome. He weighs 72.5 pounds. I receive compliments on his looks every day from strangers on the sidewalk. He is not aggressive with other dogs but he stands his ground if another dog is aggressive with him. He loves all people. The Blues runs extremely well. He is more graceful than the majority of Labs. When he gets birdy and is casting about he looks more like setter than a retriever with his head up, ears up, chest out and tail held high. he has a super nose and he finds every single training bumper I throw no matter how high the grass or thick the cover. He swims like a fish. We have worked at lot on his retrieving skills and I'm looking forward to the upcoming waterfowl season. He was very good last fall and retrieving pheasants ( even as a 10 month old rookie ) I am very glad I have him. He's a lot of fun and is a good companion. I'll try to get a digital photo of him so you can see just how handsome he is. If he were a human he'd be a Brad Pitt. Thank you for my pup. Paul D. Nachtwey Boston, MA 02116-2809
---
Mike Hey what's up? just thought I would drop a line. I took Cash up to Utah this weekend, I got a hold of some pigeons, and my brother and I took him out to the fields. I was really nervous of how he would perform he is still only 6 mo. Everyone had been extremely impressed with his basic obedience skills. My dad and grandpa raised Chesapeake and they always bragged how good of dogs they where. After I did a few stay and retrieve and baseball retrieves for them they said we would never get our Chesapeake to do that. Well anyway me and my bro took him out to a sage brush fields and let a few go. I was extremely nervous on his point and how he would do because I haven't worked a lot with him on it. But man right when got on a sent he would narrow the bird down and then hold right on it tell we go up on them. It was a sight to see and only something a proud trainer could feel. One of the last birds my brother shot went way out there in some thick high sage brush. I let cash go and thought to myself it would be tuff for any dog to find that bird. After about 10 min I told my bro, I don't think he'll find that one…. well right after that he come wondering back with the bird in his mouth. All the time money and energy make it all worth it at that moment. I'm sure you have been there and know the feeling. Well thought I would let you know how cash was doing, its been pretty hot down here so he's been inside most of the time. Its hard to get out when its this hot. I took him to a few ponds for the first time few months ago, again I was nervous of how he would do, but he jumped right in marked the retrieve and swim back with no splashes or little effort. It was like he'd been doing it for years. Unbelievable! JB Cox
---
Dear Mike, We wanted to keep you posted on how our new puppy was doing in his new home. His name is Iso and he has adjusted wonderfully to his new surroundings. He is such an incredible dog. House training was so easy. From the time we brought him home he has had no problem with potty training. After 4 days of house training, he goes to the door and scratches when he has to go out. We find this amazing since our other two dogs took a few months to learn. Iso has managed to win over the other two dogs love. He is quite active, and loves all the kids in the neighborhood. As for the pointing…well this seems to be genetically instilled having that instinct. He comes on command, except for when he is being inquisitive by nature. His curiosity is high. We love his disposition and personality! You picked out the perfect puppy for our family! I have attached a few pictures for you. Thank you so much for the care you provided us with our new addition to the family. We look forward to obtaining another puppy from you in the future! Thanks again, Cathy, John & John Jr. Pagliarello
---
Hi Mike,
Tanner and Jacilyn Schlosser here in Denver and we just wanted to send you a picture of our black lab, Ranger. We got him from you one year ago today and his mother is Annie and father is Tucker. He is very smart and bold! He is also a graceful runner and a natural hunter. We are very happy with him.
Thanks, Tanner and Jacilyn Schlosser
---
This is Tammie Robben from Colwich, Kansas. I bought Dessa from you, it will be 2 years in Sept. She is out of Eichorn's Duke & Jessie Miller"s Labs. I thought you would like to know how she is doing? I couldn't ask for a better dog. She does point, and she is doing well, with me working with her around guns and all. I have a friend that will be taking her out hunting this fall, We will see how she does! Dessa does Agility and Obedience classes in 4H, She took 1st in Obed. today Her score was 151 out of 160 possible points. This was her 2nd show she has ever done! We are so proud of her! Their isn't anything that she is not willing to do, no matter what it is, she does well at! She is a fast learner, and she adds so much enjoyment to the Family. I'm going to have her OFA and eye cert. this late Sept, if she doesn't come in heat. I get a lot of compliments about her, and how smart she is. I hide the phone in the House and let the pager peep, and tell her to get it!!!! You ought to see her prick her ears and listen for it. Then she finds it, hits it with her nose, then sits by it, till I pick it up!! I taught her this in about 15 minutes one afternoon! Tomorrow at 4H we have Agility Trial. ( Sunday). I couldn't ask for a better Dog! Love her to death! Thanks Mike for a wonderful pet! Tammie Robben robben_tammie@sbcglobal.net
---
Mike, Just a quick update on Creasy. She has acclimated very well to the household and is truly a pleasure. Well behaved, not a biter, nor a runner. We are very proud of her as you should be in producing such a fine animal. We were watching the DVD you sent this morning with Creasy in the room. She could not take her eyes off the TV while yelping, barking and running circles around the living room. She obviously recognizes your voice and most certainly had some affection for the place she was born as the reaction was something we have never seen before. Feel free to use the Williams family as a reference if the need arises as we couldn't be happier with our Creasy nlccwilliams@tx.rr.com
---
Hi Mike, Got a male from you late October. Boz is a fantastic dog. Super smart and eager to please. His hunt training is coming along great and I even got him out to Kansas about a month ago. He is amazingly birdy and flushed a few pheasants his first day out. Pretty sweet for 4 months old. Obviously, the pointing training is yet to come but I'm really happy with him. Thanks a bunch. Dave Moore
---
Mike, I just wanted to let you know that Diesel (5 mo.) had his first hunt (2-17-07)with my 10 year old son,Wyatt, along with Steve and a friend. They went to Bunker Hill which is a hunting preserve by Hastings, NE. Diesel had a great first day of field hunting and my son shot his first pheasant and chuckar(?)! Wyatt and Diesel are great companions. Diesel is the perfect dog for our family. He is smart, "birdy", and my sons new "best friend". Diesel waits all day for Wyatt to get home from school so they can "play". Whenever the pellet gun or 410 is in my son's hands, there Diesel is right by him! Steve has stated many times how easy Diesel is to work with. Diesel did such a great job huntinh, that the other guy in the photo, Steve's dog training friend, stated," Where did you get that dog again?". Just thought you would be interested in the story and photos! You can always use us as a reference! Rhonda Schiermeyer schiermeyer@alltel.net
---
Hey cash is doing great…we have become best buds. He has already learned his name and are now working slowly on other commands. He is a very alert pup and I have had nothing but praise from other dog breeders. I hope u know he is in a well loved home..my wife has even went crazy over him since he has been here and has forgotten all about the cost Thank u again for cash and will keep u updated as he progresses. Justin 'JB' Cox jb@candsunderground.com
Emails from past owners:
Mike, just wanted to let you know that Cinder is doing great. She is a wonderful family dog and so far she has been learning very quickly. Just wanted you to know that I took her to the Gunclub Pointing Lab seminar 2 weeks ago today (put on by PAUL and JULIE KNUTSON) and she did well. She was introduced to birds for the first time at the seminar. Being only 14 weeks old, I was not sure what Cinder would do. But she went right after the quail and once it landed, Cinder pointed it. The bird flew away and each time it landed, Cinder would point it. Also, they were throwing marks for Cinder using frozen pigeons. She retrieved all of them and one of them she actually had to hunt for about 20 seconds because she kind of got distracted and loss track of where the bird was. It was a wonderful sight to see her do that. Anyway, the trainers were real impressed and thought Cinder had some real potential and that they had filmed some of the seminar and that she would be in their next video. Thanks Mike for a great dog. I'll let you know more about her progress in the months to come. David (1. younger30@msn.com)
---
Just thought that you might like to know that Oakley (2yr old yellow lab) passed the APLA CPR test at Higginsville this weekend on his first attempt…Actually, he could have done it last year (or at 5 months, for that matter) but I had schedule conflicts that prevented me from taking him. Thanks for the GREAT dog! Eric D. Witt EDWitt@hedrickmedicalcenter.org
---
Belle (1.5yrs old) passed her CP in Higginsville with flying colors, infact the judges told me that she would have passed the next level too…so I am signed up for the next trial date and we will get it done. Thanks for all your help and letting Belle and I guide for you last season. That turned an 8month old pup into a very fine hunting dog. Thanks again, Rick Sanderbeck Mike: Please keep me on your mailing list. Sierra just turned a year old is twice the dog that I could have hoped for. She should be HR titled this year if I can afford it. She is pointing like a GSP, but being her first season out, the wild birds had her a little confused. Her marking ability is outstanding. Just wanted to let you know you sold e a great dog. I get compliments all the time about how pretty she is……and I can say that she is definately a good looking lab. Thanks Mike. Jeremy McEndree doing great! Had him out to NE for pheasants but the cover was so thick he could barely follow, but he kept up and lasted almost the whole weekend. I had him out at a bird farm a couple days ago and he did awesome! Held some very stylish points and retrieved all shot birds. He looked great for only 19 or so weeks. My old pointing lab never held a solid point til he was at least a year. Thanks for a good dog.
Thanks again, Darrin Rynders rynders@ricochet.com
---
Mike, It has been a while since I have contacted you regarding our dog, Sugar. She is about 16 months old now and we couldn't be happier with our pet. Her focus on finding a down bird is remarkable, her trailing ability is impressive and she is a very smart dog, too smart. Nate Bartell n_bartell@hotmail.com
---
mike hows it going here is marlow on her first points with live birds she is 7 months old she found this one brid before this 1-1/2 year old pointer did and the pointer honored her point she's becoming a good one talk with u soon brian stanley of Arvada bwsstanley@msn.com
---
Hey Mike I thought I would drop a line and let you know that deuce is the best lab I have ever had!!!!! He points like a mad man and retrieves better than any other dog I have seen!!!! Keep up the good work!! Steve Nelson northstarlab@hotmail.com Northstar Labs
---
My family has really enjoyed the puppy we got from you and we are getting ready for this year.? "Seirra", our pup is doing well, we have already used some pen-raised pheasants this year. You guys have very good dogs and they are a wonderful family member as well as great hunting dogs.? Thank a lot, Allen e-mail address weygint_aw@sd193.k12.id.us
---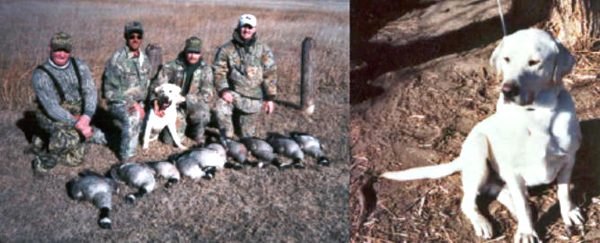 Hi Mike, Just thought I would send you an update. Rocky (aka Rebel) is doing great. We renamed him Rocky, and it seems to fit because he loves to eat and chew on rocks. I am constantly making him spit them out. He is a wonderful dog, and very calm and well behaved. Of course, he has his puppy moments. He is very smart and listens real well. He doesn't seem to care what he points at. He was pointing at our cat the other day, then pounced. Such a puppy. I will send some pictures one of these days. Thanks again for the great dog!! Dawn sommers@peruvianconnection.com. Just wanted to say hello from Texas. Here's a current picture of Tucker. He's still a great dog (no surprise to you I'm sure! 🙂 )…we get compliments all the time about what a good looking dog he is! I check out the website every once in a while…maybe one of these days we'll get another one! 🙂 Jen Steubing www.jennyandjohn.netMike, Thank you so much for giving us such a handsome new puppy. We've named him Mac. He is acclimating well to his new environment. Bay has not really been so affectionate towards him, but in time he'll realize that we are not replacing him, but giving him a friend. We would love to pass your name onto other friends down the road whom are interested in getting a real dog…a Labrador. That's if you don't mind us passing your name on. We'll send you a picture of the 2 of them…when we get a chance. Thanks again for such a wonderful experience with Lankas Labs. You really have something to be proud of. Dana & Trent Fallin Dana@kandg.biz
---
We bought our first Lankas lab in 1995. Ace was a great pet, hunter and friend. He got really sick from some sort of food poisoning and passed away when he was 8 years old. We knew he would be very hard to replace, but we really missed having a dog so we decided to call the Lankas family in Atwood again. Luckily they had a litter of pups that were about ready to sell. We picked out a black male in November 2003 and named him Bud. When he was one year old he retrieved his first ducks and geese. He can see them and hear them way before we can. On his first day of pheasant hunting just recently, he held a point several times. I couldn't be more pleased. He is very strong and muscular and full of energy. When he is not hunting he is the best pet. He loves to play and entertain us. He is mainly outside, but when we let him sleep in the house he stays on his rug and sleeps all night. Hopefully we will have him for a long time. If and when the time comes, I?m sure we will call the Lankas family once again to get another pup. They are very friendly people and prompt with sending the registration papers. If you want a good Labrador with friendly service, we recommend calling the Lankas family. Dennis and Jackie
---
We have worked Tori a couple of times this week on Quail.? She found the birds every time, including the one that had gotten away from us in the field.? She has a great nose and is a great hunting buddy in the field.? Needless to say, we are very happy with her.? She has become an important member of our family and loves to be with us all the times.? She has settled in well and is a real delight.? I only wish that my other two dogs were as well behaved.? The owner of the preserve was very impressed with and said that he would take her if we ever didn't want her.? No chance of that!!!? You can be sure that when we are ready for another hunting dog, we will call you.? Thanks, Stacey e-mail address foulsham@cub.kcnet.org
---
Thought we'd let you know that Santa Fe's Babe is now an APLA Grand Master Pointing Retriever.? Babe is out of the chocolate female we had bought from you and your dad 6 years ago (Baylee).? Take care, Ron & Deb Wehner of Santa Fe Pointing Labs
---
I just wanted to let you know that "Sunny" has passed her APLA pointing certification last weekend.? I'm considering going on to the next levels of certification next spring.? Thanks for a great dog.? Brent e-mail address rolland@netnis.net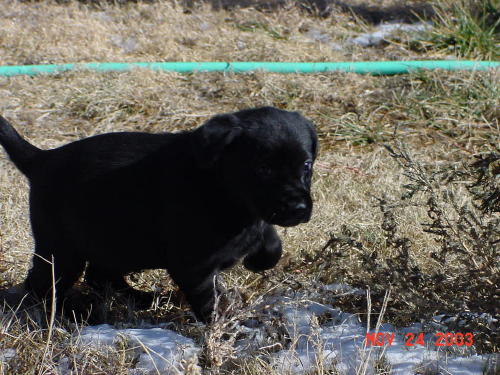 Zig Zags Blue Banana "Lake" is a very light yellow (near white) female that we brought into our kennel from Lankas Labs in the Spring of 2002 for our youngest son (7 years old). Her parents are both pointing labs, and she points very staunchly. "Raider" (GMPR MHR Riks Risky Raider MH) and "Brock" (Wyvernaxe Audley MH) are in her pedigree, which have both thrown some really nice labs that point. Lake is the kind of dog that picks up on things very quickly and will do anything just to please you! She is a very confident dog, hard in the water, and loves to retrieve. Lake is an APLA Certified Pointer and an AKC Junior Hunter. She is working on doubles and has begun blind retrieve training. We hope to advance her titles in the coming spring.Hi Mike I purchased a female fromyou several years ago. My question is do yo u take females in to breed. I kept a female from one set of my dogs and can't breed her she is coming in heat. the male I had been using was killed by a car so i need a male. She is white adn I would like to breed her to a white or a yellow . I will try calling you this evening also. Cotton the pup i purchased from you is an awesome dog. She raises really good hunting dogs and they have great personalities. Thanks Mike I will talk to you to see if you even do this. Crystal ZionMike. I've been meaning to drop you a note and let you know everything is fine with the pup. We named her Dakota and she is a regular part of the family. The dog is very intelligent but also very much a puppy. She is very alert to birds and other game and she has even pointed. Just wanted to let you know everything is going fine. Take care, Bruce e-mail address BruceCayman@aol.com
---
I'm just writing to give you an update on Sugar. Last time I talked to you, Sugar had just started flash pointing. In a couple weeks time she has advanced to holding point for up to 20 to 30 seconds. Sincerely, Nate Bartell e-mail address n_bartell@hotmail.com
---
Mike , I thought I would drop you a note. Took Benelli quail hunting for the first time last week and she locked up on point like she has pointed forever. Shot 1 and she retrieved it. Not bad for a 7 month old dog. Mike I have a lot of request for pups out of this dog when she is ready. Any suggestions on a stud you might have or know of? How old should she be before she is bred? She just came into heat Sunday , for the first time. THANKS MIKE Tim Long tlong@cnppid.com
---
Hi Mike, It has been a while since I sent you any information on Emitt. He is 15 months old tomorrow. He has been pheasant and grouse hunting since August and has turned out to be a little stud as far as finding and even pointing birds this fall. All of the people I hunt with can't believe that he actually points birds and will flush and retrieve them also. He started out slow on Grouse because I trained him on pheasants but now has gotten the hang of it. He did, however, get his nose in a skunk's rear end about the 3rd week of pheasant hunting but is no worse for the wear. I am looking forward to hunting the rest of the winter through December with him. He is a great dog with a great personality and is about as good a companion as you could ask for. When I look at the picture of Eichorn's Duke on your website, I think I am looking at a picture of Emmitt. I am very satisfied with him at this point and might be looking for a Black Male in the near future. I will try to send you some photos later. Scott Collins Mino, ND (w) 701-857-4730 (cell) 701-720-3569
---
Hey Mike, I hope your doing well and had a Happy Thanksgiving. Our pup is doing great! Had him out to NE for pheasants but the cover was so thick he could barely follow, but he kept up and lasted almost the whole weekend. I had him out at a bird farm a couple days ago and he did awesome! Held some very stylish points and retrieved all shot birds. He looked great for only 19 or so weeks. My old pointing lab never held a solid point til he was at least a year. Thanks for a good dog.
Thanks again,
Darrin Rynders
rynders@ricochet.com
---
Mike, It has been a while since I have contacted you regarding our dog, Sugar. She is about 16 months old now and we couldn't be happier with our pet. Her focus on finding a down bird is remarkable, her trailing ability is impressive and she is a very smart dog, too smart. Nate Bartell n_bartell@hotmail.com
---
I have just about 30 years in raising,training,and competitive hunting of dogs. She is one of the top female labs I have had the privilege of owning and hunting behind. She is the type of dog that will never be for sale. I must commend you on a job well done on the breeding program that created her. Thank You, Herman from RR Kennels 1.

---
I was just out at their place 2 weeks ago. Went to pick up a pup they were generous enough to donate to DU. Took pup home for a few hours – he did well playing with our dogs, was bold and playful, pointed a butterfly and a tweety bird and chased stuff around. Dam and Sire both happy and healthy and handsome, as were the other pups in the litter. Lankas's are super nice people too. Some folks might argue that b/c they aren't titling their dogs you can't be sure of what you're getting. Raider is in their bloodlines, plenty of Trieven dogs too, as well as a number of FCs. Greg Spade ***I have a black female that is three years old and I could not ask for a better dog. Great blood lines, wonderful natural point and soft mouth retrieve. She is very special. I have also used one of their studs for a litter of pups. They are all doing great. So I would have to say Mike's dogs are hard to beat. Chad Fuller cfuller@usd325.theclassic.net. Well, it's been a week now and Hunter is doing GREAT! I have never seen a pup take to house training like him. Hunter is even stating to go to the door when he needs to go out. My wife didn?t even want a pup in all honesty, but she loves Hunter. She said he is the cutest pup she has ever seen. And with his easy house training and almost complete lack of whining it didn?t take long to win her over. Thanks for such a great pup Mike. I will keep in touch to let you know how he does later on. Mark Fadale fadale4@iowatelecom.net
---