FAQ
Are your dogs APLA certified?
We did certify some of our original stock, but since then I do not have the time with coaching football, and working my current job. My father coaches football, teaches physical education and is the athletic director and does drivers Ed in the summer. The closest events are about 4hours away and it usually hits us about our busiest time of the year. I believe that the pups we produce speak enough for themselves, whether it's been with their titles or satisfied customers. Basically, we are just North West Kansas people who grew up hunting and hunting with dogs makes all the world of difference and much more enjoyable.
What is the temperament of your dogs?
Very docile and laid back, unless you are hunting or have the retrieving bumpers out, then they are getting after it. They know when to turn it on and off. Our dogs are primarily outside dogs, but they do come inside very often. Besides hunting season we take them on trips and they are usually riding in the front seat of the pick-up or the back seat of the car.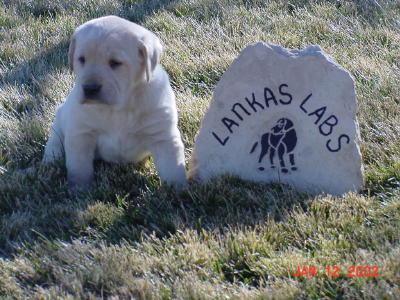 Are the puppies socialized?
From the time they are born till they leave we have a radio playing non-stop. After the puppies are about 3 wks old we start clapping our hands and making other noises. From the time they are 5wks old till 7wks we start working them on a pheasant wing. Depending on the time of year, we have a pool they can get in and play around in the water. If it during the summer time we take them to the local pool and introduce them to all those noises and not to mention ALL THE KIDS. The puppies are well socialized with children as I have nieces and nephews whose ages range from 2 yrs of age to 12 yrs and they are playing with them constantly.
Do you have problems with shipping puppies out?
We have never had a problem to date. All the puppies have arrived and were ready to go. We haven?t had any get sick either. The only thing you can run into is the time of year. There are certain restrictions for different flights on the temperature. What we do is try to set a date that works for both us and you and then look at different flights and times and then we go from there.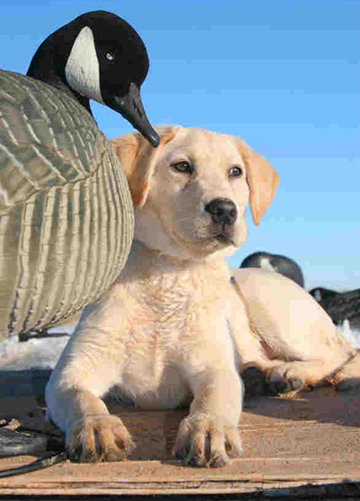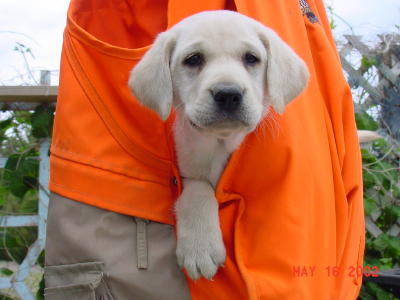 How does one go about picking a puppy out in which they cannot be there in person to do so?
What we do is have you tell us what you are looking for: size, aggressiveness, independent, birdie, curiosity level, color, etc. We also send photos of the puppies and between all that processes we usually have a good idea of what you are looking for. ****Dear Mike,I can't say enough good things about the puppy you chose for us! She is the best pup I have ever seen! Jerry is so in love with her he can hardly bear to leave her at home. Usually she goes EVERYWHERE with him. He even wants to get her a guide dog harness so she can really go EVERYWHERE. Better still was the timing of everything. Jerry is off work with an injury waiting for authorization to have surgery, so he gets to spend all day every day with her and it sure is paying off. She is extremely obediant, she has taken to positive reinforcement training very quickly. He just does little simple 3-5 minute trainings of come and sit commands right before meal time. She is so eager to please that in just a few short exposures she was responding instantly to just the whistle without even waiting for the actual command. Of course she will probably have some set backs and off days as she matures, that is normal, but she is very responsive to most everything. She has lots of chew toys and so she has been pretty good about chewing, except for Jerrys' shoes because they smell of him. Certainly better than any of the weimareiners were, but that is also an advantage of her breeding. I'll try to get some pic's of them around the beginning of April and email them to you so you can see how happy they are together. Thanks again! I'll keep you posted. Viky Von Aspern ancinda@yahoo.com P.S. Oh, he named her Shasta after a mountain here that has 7 glaciers so it has snow year round, and since we have Blue Weimareiners, and a red Visla, we now have red white and blue hunting dogs. That's pretty American, if I do say so myself. (ha ha, I guess we qualify as "red-necks" but I already knew that) Mike, I couldn't be happier with the little guy. He's got so much personality already. As you know, I absolutely loved my previous yellow lab. I thought I would have a hard time connecting with another pup as well as I did my last one. Well, he?s making it easy. He learns very quickly for only being 11 weeks old and has a drive to please that I have never seen in a young pup. He is constantly making eye contact with me, it's like he is just checking with me to see that I'm doing alright.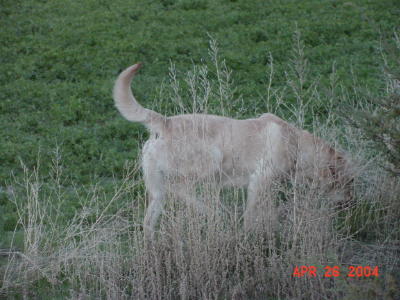 Guarantees
LANKAS LABS guarantees if your dog does not pass his or her OFA or eye CERF examined by 26 months of age (with proof from a vet), you may keep the original dog if you supply proof of sterilization, and we will reimburse you for the price of your pup. Breeding the dog before 24 months of age will void the guarantee. Furthermore, any dog examined after 26months of age will no longer fall under this guarantee. Also, records of a proper and well-balanced diet must be available. The speed of growth is astonishing and this speed sets the demands for the quality of nutrition. When the puppy grows, these demands change. The problem with large breeds is too fast of growth. The growth process needs to be supported with heavier nutrition during the first 3 to 4 months. After this, the nutrition needs to be controlled downwards. By doing this, we can control the speed of growth and most importantly, do not allow any excess amounts of nutritional level of the synovial fluids into the mentioned overgrowth of cartilage and through this, bone deformation. We must also recognize that a high quality diet also improves and maintains a higher immunity level in the dog. A puppy which has been fed with a highly nutritional diet, has a better chance in fighting diseases, skin and coat problems and also allegories will not be able to freely form as the puppies immunity level is high.